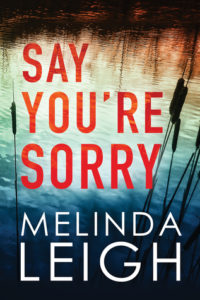 RATING: 5 out of 5 Stars
I am so excited that Melinda Leigh is writing a spin-off of her wonderful Scarlet Falls trilogy. SAY YOU"RE SORRY (Morgan Dane #1) takes me back to one of my favorite fictional cities.
Morgan Dane returns home to Scarlet Falls with her three young daughters after the death of her military husband in the Middle East. Living with her grandfather and a teenager rescued in a previous Scarlet Falls book, two years has passed and Morgan decides to return to work as an ADA. She wants to start moving forward at least professionally with her life.
Lance Kruger was an SFPD officer, but is currently training to be a private investigator while recovering from a gunshot wound. His mentor, Lincoln Sharp started his own P.I. agency after retiring from the SFPD. Lincoln is more than just the ex-detective who worked Lance's missing father's case, he has been a father figure and an enormous help with Lance's mother.
When Morgan's sometimes babysitter, Tessa is found raped and violently murdered, the blame falls on her boyfriend, Nick. Nick is Morgan's young neighbor who plays chess with her grandfather and reads to her girls. Even though the evidence is strong, Morgan just cannot believe Nick is guilty. Morgan turns down her ADA job and decides to not only defend Nick against false charges, but to find the real killer with the help of Lance and Lincoln.
This book takes off and keeps a fast pace throughout. With multiple suspects there are many unexpected twists and turns in the plot. As you turn the pages to find justice for Tessa, many other small town secrets become unearthed. You also follow the story through both Morgan's and Lance's points-of-views, with some internal insights from the killer and Nick's time in lock-up. I loved the multiple views because they pull you into the head and intense emotions of each character in every situation.
I was happy to learn from the author that there are at least four more proposed books for this series and Morgan will continue being the main character. This book has the beginnings of a new romance for Morgan with Lance and I am looking forward to its progression. I love a series that not only gives me great thrills and/or mysteries, but I get to follow a couple that I want to succeed in love.
I am looking forward to the next book and a return to all of these great characters!
Thank you very much to Montlake Romance, Melinda Leigh and Net Galley for allowing me to read this eARC in exchange for an honest review.