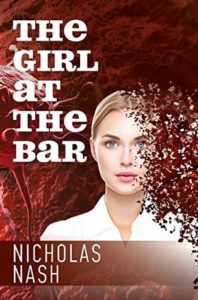 RATING: 5 out of 5 Stars
I absolutely love when I try a new author with no expectations and am completely absorbed into the story. THE GIRL AT THE BAR by Nicolas Nash is one of those mystery/thrillers that are rich in backgrounds, technical information and clues without bogging down the pace and keeps you guessing until the end.
Dr. Rebecca Chase is a brilliant cancer researcher in New York City for a medical conference. The night before she is to present, she meets Ragnar Johnson at her hotel bar. She leaves to go to his place for a one night stand. When Ragnar wakes up the next morning, she is gone, not just from his apartment, but she has completely disappeared.
No one knows why she would disappear. Her research has placed her in the middle of a high-stakes battle between two mega pharma companies. Her personal life is a mess, but she is not the type of person to just walk away from her life's work and career. After her disappearance, others associated with her start to be killed and there are so many different motives and agendas, you don't know who to trust.
Ragnar is a brilliant out of work trader with social and psychiatric problems. Even though he knows he looks to be the prime suspect in Rebecca's disappearance, he can't stay uninvolved. He and his tech expert/hacker friend, Eddie chase clues. As he works the case, he is being followed by Raoul Perez who heads up security for Atticus Biopharma and was a NYC detective previously. You also have a competent team of detectives, Timothy and Roberta, who we follow as they work the case.
During the story, you are introduced to an entity that just calls itself "the void". It is never completely satisfied or filled for long. You realize this is the mind of the kidnapper/killer and the way it describes itself is extremely chilling.
There are so many characters that have a variety of motives that I was continually changing my mind on who was the guilty party and why. Even with all the moving parts, I was never confused on who was who. All of the characters were so interesting and realistic that I just had to keep turning the pages. I love this type of mystery as it takes you step by step and lets you think and discover along with the detectives and Ragnar. Please note: There is a moment of graphic violence in the climax of the story. I thoroughly enjoyed this first novel and will be looking for more from this author.
Thanks very much to Fireflies Publishing LLC and Net Galley for allowing me to read an eARC of this book in exchange for an honest review. It was my pleasure.