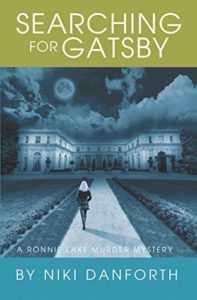 RATING: 5 out of 5 Stars
It has been a while since I have read a first person classically written private detective novel and this was a great one to remind me of my love of this genre!
SEARCHING FOR GATSBY: A Ronnie Lake Murder Mystery by Niki Danforth is the third book in this series. It can be read as a standalone, but I will definitely be going back for more character backstory and new mysteries in the first two books.
This is a new to me P.I. that I should have already been following. I love that Veronica "Ronnie" Lake is a mature character who is starting a second career as a P.I., has grown children, a second degree black belt in Aikido, a bright red mustang convertible and a retired German shepherd war dog. She is still learning the trade of being a P.I. under Will Benson, a former cop turned private eye.
At a dinner party held by Ronnie's friends Win and Marilyn Watson, she meets an intriguing newcomer to the community, Jamie Gordan. The flirtation is interrupted by a loud gunshot and the body of a thief falling from the roof outside of Win's library of rare books. The thief has a valuable diamond necklace in his pocket, when he could have much more easily and for more of a reward stolen Win's rare edition of "The Great Gatsby".
This starts a mystery that has many well place red herrings and twists between the main plot and two secondary plots. Ronnie has many mysteries pulling her in different directions. She would like to know who killed the thief, but the police, especially Detective Sofia Rossi, are anything but accommodating. She needs to find who took Win's copy of Gatsby. She is suspicious of Katya Alessandro who owns Alessandro Rare Books in regards to her connection to Win and Jamie. Also, all of the players are connected by four WWII soldiers who happen to have left a treasure map for their descendants to solve.
The cast of characters could walk off the page, they are so realistically portrayed. I love the fact that Ronnie has a dog and when you learn of his backstory it will break your heart. Then throw in a fun and feisty terrier named Peachie and I just could not put this mystery down.
I will definitely be going back to read the first two books in this series. I love Ronnie!