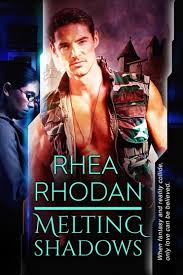 RATING: 5 out of 5 Stars
This romantic suspense with added fantasy is hard to put down with two storylines happening in present day and OtherWhere. A love story between a former SEAL and a brilliant, socially stunted hidden beauty. Never confusing, the writing was crisp, fast paced and engaging. Ms. Rhodan has a new fan and I'll be coming back for more!
Dr. Prudence "Prue" Marsh is a product of genetic engineering and was raised by her mother to show no emotions or weaknesses. Her brilliant mind has her developing new capabilities for Navy subs as a contractor and this has put her in danger from Albanian terrorists who want her program. While away from her farm, it is raided and all her rescued animal friends are killed. She refuses to be hidden in a government facility, so she is sent to finish her project in Max Delaney's home bunker.
Max Delaney is a computer forensic analyst and a former SEAL. His continued work for the government is dependent on keeping Prue safe and happy until she can finish her project. Since he hasn't found a woman who can refuse his charm yet, he accepts the assignment, but Prue isn't like anyone else. Max's sister, Sam befriends Prue and Max's rescued Rottweiler war dog, Brutus instantly attaches himself to her, but Max just can't figure his guest out.
As Prue's backstory is slowly revealed, you cannot help but be completely drawn in to her horrible upbringing and understand why she escapes into the fantasy world of OtherWhere. All of the characters are in these blocks of fantasy and are similar to their present day counterparts. The worldbuilding in these sections is as strong as the rest of the book. The romance is built at a believable pace with me cheering for Prue at every turn of the plot. I love romantic suspense and this book went above and beyond. I recommend this book highly!
Written for and posted first on The Romance Reviews.com.