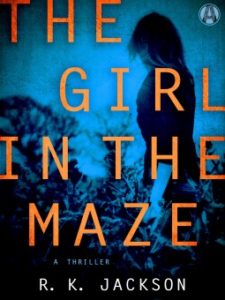 RATING: 4 out of 5 Stars
THE GIRL IN THE MAZE is the debut book by R.K. Jackson featuring Martha Covington. This book was an enjoyable mix of thriller and mystery with a little psychic/seer thrown in on a Georgia coast island.
The island and its inhabitants are descendants of plantation slaves who are self-sustaining and still follow their old religion and belief system. Martha is out of inhouse treatment for schizophrenia suffered during college and is working an internship for the historical society to interview and write a book on the GeeChee people of Shell Heap Island as a test to see if she can maintain a normal life and return to college for journalism.
There is a battle between the town council and the GeeChee for control of development on their island which leads to dirty money, corruption and murder. Martha is caught in the middle and doesn't know if her disease is taking over again or if voices and visions she begins to hear and see are due to being more, like Lady Albertha, an old seer in the GeeChee community.
Martha is a wonderful character. She is brilliant, driven, and at the same time doubts herself due to her illness. The plot flows with many rich characters and twists. The writing is very descriptive and you feel immersed in the small Georgia town, the island and traveling in the marshes. I am looking forward to reading more about Martha and where the author takes her.