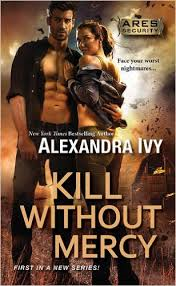 RATING: 5 out of 5 Stars
KILL WITHOUT MERCY (ARES Security, #1) by Alexandra Ivy is the first book in a new romantic suspense series that has definitely made it on to my must read list! I have read Alexandra Ivy's paranormal romance books and enjoyed them, but this book is that step above that I am always looking for. The series follows five soldiers, who become a band of brothers that survive and escape a Taliban hellhole. They come home and form their own high tech security company, ARES Security.
Rafe Vargas, a covert ops specialist, is in Newton, Iowa to clear out his grandfather's house. He just wants to get it done and return to his ranch and the life he is building in Houston with ARES Security. He runs into Annie White at the diner and is instantly drawn to her.
Annie White lived in Newton years ago with her father, who was dubbed the Newton Slayer. She is back because she is having visions that the killings have begun again, but how can that be? Rafe knows she is in danger and vows to protect her and catch the serial killer.
This story keeps you reading because the characters are interesting and you want to find out everything about them. The romance is hot and believable with a sexy alpha male and a beautiful, strong and yet troubled heroine. The plot keeps moving at a fast pace and there are several plot twists with a big twist at the end. I highly recommend this book. I can't wait to see who the next book features because this one was so good.
Thank you so much to Kensington Books, Zebra and Net Galley for allowing me to read this ebook in exchange for an honest review. It was my pleasure and delight!