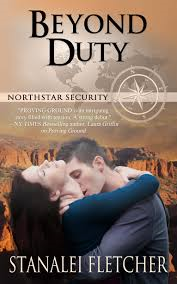 RATING: 4 out of 5 Stars
BEYOND DUTY (Northstar Security #3) by Stanalei Fletcher is an enjoyable romantic suspense and ties up the Northstar Security trilogy on a high note.
It is Riley O'Neal's turn in the spotlight. He is a Northstar Security agent who is looking to right all wrongs and then disappear into the night. When a Senator's wife is kidnapped and held for the ransom of a congressional vote, Riley is assigned to go undercover to the resort she was taken from. The difference this time is that he needs an undercover wife to fit in and he is used to working by himself. The woman assigned that role has deceived him on a previous mission and yet he could never forget her.
U.S. Army Lt. Mary "Chip" Anderson is determined to go on this mission because the kidnapped victim is a close friend. She is shocked when the person she deceived on a mission a year ago walks into the room to pretend to be her husband. Concealing her attraction is going to be difficult as the two have to maintain close quarters and the façade of husband and wife. The exchange for the Senator's wife is compromised and Chip is taken, also. Riley must now save both women and stop the blackmail threat.
I really liked the suspense plot in this book. It was fast paced, plausible and kept you guessing. Chip is extremely strong, both mentally and physically and has learned to hide her true feelings well in a male dominated world. Riley always has to be the protector. He needs to learn to deal with a strong woman and realize that not everything is his fault when things go wrong.
Although there is a lot of sexual heat going on between these two, there is no sex and that is my personal problem with this book. The back and forth bickering got a little old. I feel in a romantic suspense the romance has to be just as strong and prevalent as the suspense. Good read in every other way though and a good trilogy all around.
Written for and posted first on The Romance Reviews.com.