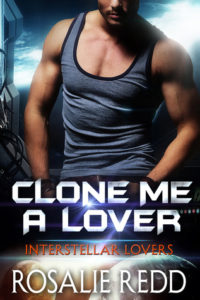 RATING: 4 out of 5 Stars
CLONE ME A LOVER (An Interstellar Lovers Novella) by Rosalie Redd is an enjoyable and quick sci-fi romance novella and a possible start to a new series.
Angelo Thirteen is a human clone from future Earth who desires to fall in love. All emotions have been banned on Earth, but Angelo Thirteen is good at hiding his so he will not be sent for reprogramming. When the spaceship he is piloting is hit by space junk, the pods disengage and his pod is sent tumbling into deep space. Before he passes out, all he regrets is that his chance to escape Earth and live a free life with emotions is over.
Elle is an Altonian spaceship captain on a mission. She must sell her payload to get the money to free her brother from a future in her home world's prison mines and pay off her beloved ship. When she rescued the pod from space, she was not expecting to find a sexy life form on board. She has to keep to her goal, but this human clone keeps surprising her with his gentleness and kindness which is breaking down the hardened wall around her heart.
For the short length and the introduction of new world-building, this is a well written sci-fi romance. The sex scene was hot and sexy and well placed in the story. Both Angelo and Elle are well portrayed and realistically change and grow together in this short romance plot. My only problem with this story was the harsh transition between Chapters 2 and 3. It pulled me out of the story and had me checking back if I missed something.
Other than that one point in the story, it flows very well and had me anxiously waiting for how this author would give me my HEA. I was not disappointed and will be looking for more books in this series in the future.
Written for and posted first on The Romance Reviews.com.