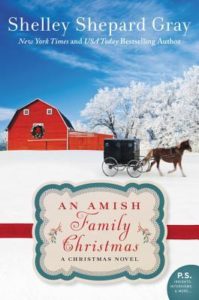 RATING: 5 out of 5 Stars
AN AMISH FAMILY CHRISTMAS (The Charmed Amish Life #4) by Shelley Shepard Gray is the last book in The Charmed Amish series, but it can be read as a standalone. When you get to the last chapter wrap-up though, you are going to want to go back and read them all. Ms. Gray's writing about an Amish family is entertaining and heartwarming, but she also portrays her characters with all the good and bad characteristics of all humans.
Levi Kinsinger has returned to Charm still trying to deal with the death of his father and wanting to find and fit into his place in his family's business and home. He decides to live on his own because he can't face the memories in his family home and meets the young widow across the street when she locks herself and her young daughter accidently out of their home. Friendship grows and Levi begins to have feelings for this mother and daughter, but there are secrets to be learned that may change those feelings.
Julia Kemp has been living a lie and running from her past. Having had an abusive fiancé and being pregnant out of wedlock sent her on the run to start over away from her life and family. It has been very difficult, but she has survived and raised her daughter on her own pretending to be a widow in the Amish community in Charm. Levi has made her want to reveal her secret and hope for a better life. Her past is starting to catch up with her and it is time to decide if she will run again or fight for her future.
Levi and Julia are fully developed characters and not just Amish caricatures. That is what I love about all of Ms. Gray's characters. The plot is realistic and emotional. This is a fast read that will leave you with your HEA and a Kinsinger home full of family and love on Christmas day.