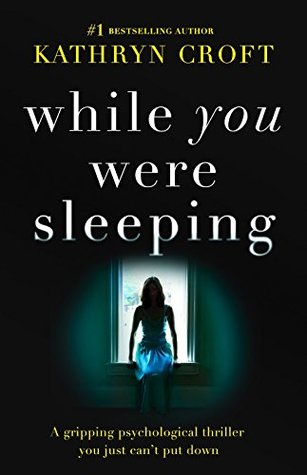 RATING: 4 out of 5 Stars
I now understand why there are so many conflicting reviews for this book.
WHILE YOU WERE SLEEPING by Kathryn Croft is a psychological suspense/thriller that is fast paced and a page turner, with many red herrings and twists. It will keep you reading until the end, but it was not my favorite.
When Tara Logan wakes up naked next to her dead neighbor in his bed, she has no memory of how she got there or what happened. She dresses, runs across the road to her own home and decides not to say anything.
She has a husband, Noah, who has cheated on her, a teenage daughter, Rosie, who has a history of lying and stalking and her young son, Spencer. As the investigation into her neighbor's death progresses everyone comes under suspicion for differing reasons. The picture of the perfect family is no longer perfect and Tara no longer knows who to believe. Besides the family, there are secondary characters that are creepy and questionable.
This is a well written plot that constantly keeps you guessing and on the edge of your seat and the ending was a big surprise but it didn't deliver. It just sort of fell flat for me and then it is the end very quickly. I also had a huge problem with the DCI working the case. He gives a suspect information and becomes involved with her, but then he is worked out of the story. If his purpose was just to deliver info, it wasn't realistic and another way should have been considered.
Very interesting premise and plot, great use of plot twists, interesting characters, just not a good ending for me.
Thanks to Bookouture and Net Galley for allowing me to read a free eARC of this book in exchange for an honest review.