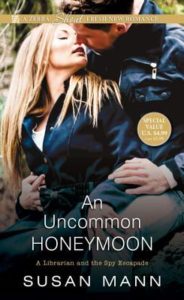 RATING: 5 out 5 Stars
Susan Mann had me once again turning pages well into the night in Quinn and James' latest exploits. This is such a fun series with a couple that takes you on their CIA over-the-top missions. The plots have serious background premises, but are entertaining and balanced with a lighter side at the same time. James is your secret agent dream come true and Quinn is great as a covert research librarian.
AN UNCOMMON HONEYMOON (Librarian and the Spy Escapade #3) by Susan Mann has the big marriage scene between Quinn and James and it is everything I was hoping for, beautiful, fun and filled with love.
As they are on their honeymoon in the Turks and Caico's, they are approached by Dave Flores, a former CIA operative now working for a group that rescues children caught in human trafficking. Quinn and James were invited to a party that Dave would like them to surveil, but Quinn meets two of the children being held at the compound and vows to help them get free. The plot has child slave trafficking, drug trafficking and a Russian crime lord. The child slave trafficking is handled seriously and with heart by Ms. Mann, while the Russian crime lord and his minions get the action packed, super spy treatment.
Quinn and James are just perfect together. Their love for each other is always present, Quinn is always James' equal in any situation and they are seriously sexy and hot. I especially love the sometimes witty, sometimes steamy banter between these two. All of the secondary characters that I have come to care about in the two previous books make an appearance. This series does continually progress forward in Quinn and James' relationship and abilities, so I really think it is more enjoyable to read in order.
I am waiting anxiously for the next installment!
Thanks very much to Kensington Books, Zebra Shout and Net Galley for allowing me to read this eARC in exchange for an honest review.