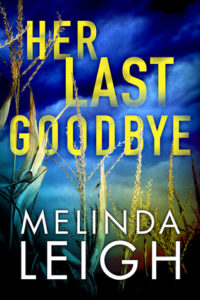 RATING: 5 out of 5 Stars
HER LAST GOODBYE (Morgan Dane #2) by Melinda Leigh has me very excited for this series! I loved this book even more than the first in this new series and I gave Book #1 a five star review. I love when I think I have figured out the ending and the author still has another twist in store for me that surprises me once again.
Morgan Dane and Lance Kruger are on the case of a young mother of two who has disappeared. Morgan feels Chelsea Clark would never have left her small children even though the sheriff believes she just walked away or the husband is responsible and the prime suspect. For Lance, this case brings up all of his memories of the disappearance of his own father many years ago.
As Morgan works the case, she becomes the focus of the violent predator and her children and grandfather are put at risk. Morgan and Lance will do anything, even bend the law, to protect those they love and catch the predator.
This is a fast paced and easy to read book that kept me turning the pages. The plot twists and turns so that even when I believed I had the case solved there was still more to come. Morgan and Lance are so realistically written that I feel I could walk right into their office. The secondary characters; grandpa, Morgan's girls and extended family, Sharp and Lance's mother are all great additions that add the true to life feel and dialogue to these books. I was also very happy that Morgan and Lance finally got their "Let's Get It On" scene. Oh, yeah!
Another series to add to my must read list!
Thanks very much to Montlake Romance and Net Galley for allowing me to read this eARC in exchange for an honest review.