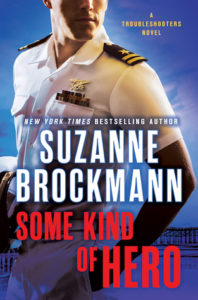 RATING: 5 out of 5 Stars
There are a large number of great authors and out of that group everyone has their favorites that just always deliver for them. You disappear into their fictional worlds with no difficulty and love all the characters no matter how long you have been away and it always feels like you just visited yesterday.
One of my favorites is Suzanne Brockmann and her latest romantic suspense SOME KIND OF HERO (Troubleshooters, #17) delivered. Once again she gave me a noble and hunky Navy SEAL to fall in love with right along with a unique heroine and a fast paced suspense plot. Even though this is the 17th Troubleshooter book, it can easily be read as a standalone, but I don't know why you would not want to meet all the other great characters in this series.
Lieutenant Pete Greene "Grunge" whips BUDs into SEALs that are ready for anything. What he is not ready for is the sudden guardianship of his sullen 15 year old daughter, Maddie after the death of her mother. They are strangers that are having serious difficulties relating to each other. Before Pete can connect, Maddie gets into serious trouble with a girl she thought was her friend and disappears. Pete knows she is in trouble, but does not know how much and is desperate to find and help her.
Shayla Whitman is a romantic suspense author and Pete's neighbor. She has seen him around with his daughter, but has always been too intimidated by his hero worthy looks to introduce herself until she finds out Maddie is missing. Being a divorced mother of two boys, she knows the terror of having a child missing and at risk and wants to help in any way she can. As Shayla and Pete work to find Maddie and figure out who she is running from and why, Shayla can't believe she is actually living a real life romantic suspense story.
These two are just perfect together. They both have been hurt in love before and need to learn to trust and open up again. Maddie and her buddy, Dingo make great secondary characters. I really loved when Shayla kept sending Maddie text stories of her mom and Pete's relationship to make her understand that Maddie and her dad did have common ground; they both loved her mother.
Once again, a great addition to the Troubleshooter series! Strong, fully developed characters introduced in this book and a few friends from previous books. A suspense plot that keeps the tension high and the pages turning. A must read series for me!