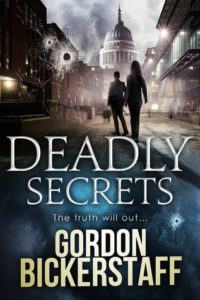 RATING: 5 out of 5 Stars
If you are going to start a new thriller series or you want to try a new author of thrillers, you have got to read DEADLY SECRETS (Gavin Shawlens Thriller #1) by Gordon Bickerstaff. This thriller has an eerily plausible story line, intricate plot, twists and surprises that gave me chills just thinking about how this could really happen.
Gavin Shawlens is a brilliant scientist who studies protease enzymes. He is also part of a secret British organization, The Lambeth Group that monitors universities and research scientists' discoveries that could possibly do more harm than good.
Gavin has been offered an opportunity to test a new additive that could revolutionize the entire food industry. At first he does not believe the hype, but when he discovers the wife of one of the company owner's is an old flame that he never got over, he agrees to their proposal. With incredible global financial implications, the stakes are high and Gavin becomes entangled in a power struggle between a global corporation, the Russians and corrupt officials at all levels of government.
I have so many feelings to share about this book. The main character of this series, Gavin Shawlens is very human. He is no James Bond. He runs away from danger to save himself to the detriment of anyone with him, usually but not always. He is brilliant, but socially awkward. I cheered for him, I yelled at him and I was embarrassed for him. The other characters are just as well written. Some are so evil, to be almost unbelievable, until you consider what money and power are doing in the real world today.
The science based plot seems quite believable. The description of the deaths by enzyme were equal parts disgusting and chilling (and might be too graphic for some). When you think you are at the end, this author twists you around and the peril continues. I love when that happens.
This is a great start to a new thriller series with a unique author's voice and hero!