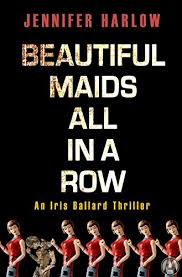 RATING: 5 out of 5 Stars
I COULD NOT PUT THIS BOOK DOWN!
Jennifer Harlow has written a serial killer that scared me to death with his control over himself and others, had me cheering for her main character, Iris Ballard's strength and tenacity, crying for her loss and wishing that I had the next book in my hands right now. BEAUTIFUL MAIDS ALL IN A ROW is a definite keeper!
Dr. Iris Ballard was one of the top FBI profilers. She now teaches at a small college and uses an excessive amount of pills and vodka to hide from mistakes made two years ago. Right when she reaches a new low, Luke Hudson, her old partner shows up and offers her a chance to chase a new monster, "The Woodsman."
"The Woodsman" has killed several professional women and never leaves a clue or trace to be followed. Control is his motivation. He makes contact with Iris in the hope of rattling her, but he also considers her his intellectual equal. Even when his identity becomes known, he is able to deflect his crimes on to others. All except Iris believe it is over. He has made everyone believe Iris is on the verge of a breakdown again. The game is on and Iris' life could be on the line again.
This book was fast paced, chilling and one of the best psychological thrillers I have read this year. The characters could walk right off the page. "The Woodsman" made chills go up and down my spine. I am hoping Ms. Harlow continues with this series and soon!
Thanks so very much to Alibi-Random House Publishing Group and Net Galley for allowing me to read this eARC in exchange for an honest review. It was definitely my pleasure!