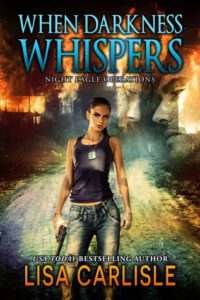 RATING: 5 out of 5 Stars
WHEN DARKNESS WHISPERS by Lisa Carlisle is a mix of military romantic suspense, paranormal/urban fantasy and serial killer thriller all woven together to make an AMAZING book!
Eva Montreaux is a biologically enhanced Marine. She leads the NEO (Night Eagle Operations) team 17 sent to Okinawa to investigate who or what is brutally murdering American servicemen. With the increased tensions between the American military and the Japanese it is essential to solve and stop these killings as soon as possible. As she works with her special team, she runs into military colleagues from her time in Afghanistan, but her enhancements have made that portion of her memory incomplete until she sees Gunny Delacruz.
Gunnery Sergeant Marcos Delacruz has had three years since Eva left Afghanistan to come to terms with promises not kept. When he runs into Eva on Okinawa, he cannot believe she shows no emotion at seeing him again. The past will have to be dealt with, but right now he is on a mission. With his special ability to communicate with spirits, his superiors hope he can solve the serial murders. What he does not expect is to continually cross paths with Eva during the investigation.
Eva and Marcos both have secrets that cannot be revealed to others in regards to their missions. They also have misunderstandings that are tied to their pasts in Afghanistan. As Eva struggles to remember Marcos and their shared past, they both have to find a serial killer that does not appear to be human.
I loved this whole book. Eva and Marcos are great main characters that are fully fleshed with flashbacks that in no way confuse or interfere with the main plot. Trust is a huge issue for them in the past and present that has to be resolved for them to work together. Their romance is written past and present and grows throughout the story. There is great sexual tension as well as tender yet hot sex scenes.  I also really enjoyed the last chapter of this book which is unique.
Ms. Carlisle has delivered a well written military romantic suspense with paranormal characters. She has then intertwined the whole story with Japanese folk lore that adds to the uniqueness of the story. This is a book that I highly recommend!
Written for and posted first on The Romance Reviews.com.