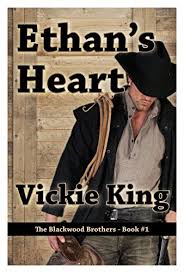 RATING: 4 out of 5 Stars
It has been quite a while since I have read a historical cowboy romance. I am very glad that I tried this first in a series by a new to me author, ETHAN'S HEART (The Blackwood Brothers, #1) by Vickie King. The Blackwood family, a runaway with a sick baby and secrets, posses, outlaws, and Missouri in 1855 all come together for a great read.
Ethan Blackwood is a widower with two little girls. His beloved wife, Elizabeth was killed during a bank robbery. Grief has turned into a powerful need for revenge instead of justice for this sheriff, but first he has to find someone to take care of his little girls so he can go on the hunt for her killers.
Annabelle "Annie" Holt is on the run from St. Louis with little baby Lily. She has to abandon the wagon train due to Lily's health and is helped by the town's doctor, Andrew Blackwood. Annie needs to stay in town for Lily, but she has no money and considers accepting the job as the laundress for the salon girls. Andrew believes he has the perfect solution for Annie. She needs a home and security and his brother, Ethan needs a new wife to care for his home and girls.
Ethan and Annie marry and when Ethan makes it clear it is not for love, Annie has some rules of her own. It isn't until he comes in with his star on his vest that Annie realizes she has married the town's sheriff. It is now more important than ever to keep her secrets.
I loved Annie! She was so strong and loving even with all that had happened to her and what could happen if the truth of her past became known. The love and care she showed for everyone was wonderful to read. Ethan was a good and honest man who was being eaten alive by his need for revenge and how Ms. King dealt with his change of heart was very well done. I really enjoyed reading this story, even though at times it was predictable, because the familiar and HEA is what I am looking for in a good romance genre book.
Thank you to Salt Run Publishing LLC and Net Galley for allowing me to read this eARC in exchange for an honest review. I am looking forward to reading the rest of the brothers' stories!