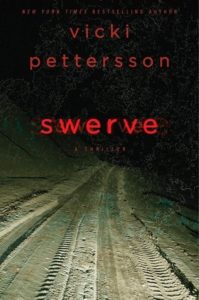 RATING: 5 out of 5 Stars
SWERVE by Vicki Pettersson is one of the best thrillers I have read all year! Extremely fast paced plotting and action even with flashbacks into Kristine's childhood. No one in this story is to be taken at face value. There is always a twist that pulls you in to continue reading, make you cringe, or make your heart rate rise. This book does have graphic violence and is not for the faint of heart.
Kristine Rush is a surgical tech traveling from Las Vegas with her surgeon fiancé, Daniel, to visit his mother and friends in California for an engagement party on the 4th of July. Daniel swerves on the interstate and Kristine spills coffee everywhere, so they pull into a deserted rest stop to clean up. Kristine is attacked and knocked out in the ladies room. When she returns to Daniel's car, he is missing, but his cell phone has been left in plain view on the driver's seat. Then comes the call from a mechanically disguised voice that if she wants to see her fiancé alive again she must follow all of the following instructions.
The plot takes off from there and never slows down. This book was hard to put down, but I had to at times to get my anxiety level back to normal. The scenes of graphic violence are not gratuitous in this story, but they are explicit. Make sure your doors are locked and to clear a block of time because you are going to have a hard time putting this one down!