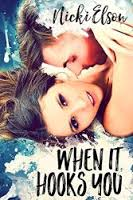 RATING: 5 out of 5 Stars
Nicki Elson's When It Hooks You is one of the best contemporary romances I have read in a long time!
This book gives you believable characters, a plot that flows over a well-paced time period and dialogue that is very realistic. It is so nice to read a contemporary romance that is so true to life AND gives me my HEA.
Trish Cerise is a receptionist at a prestigious law firm in Chicago. She thought her long term boyfriend was about to propose again, she turned him down last year, but she is ready now to accept. Instead of a proposal, she gets dumped. This brings about Trish's new rules for dating: she will only go out with a guy for three dates because after three dates is when complications and heartache starts and no sex.
Adam Helms is a businessman, who has interests all over the world. When he overhears an embarrassing conversation between Trish and her friend in the law firm lobby, they strike up a conversation and mild flirtation. He is interested in Trish's rules of dating and has a few of his own as they get to know each other on their dates. Trish and Adam both have trouble keeping to their own rules as their feelings grow. When Trish is ready to make an exception to her rules, huge plot twist surprise involving Adam's past.
This story is so well written. I was especially happy that the author had Trish move forward with her life and career after the plot twist and not just continually mope around until Adam's return. She also didn't just jump back into his arms and give up everything she has changed and worked towards to be back with him.
 Trish and Adam are wonderful characters that I cheered for throughout the romance. Sexual heat is high, but it is not overly explicit. There are fun and strongly written secondary characters that will make for excellent follow-up stories. I highly recommend this book and author!
Written for and posted first on The Romance Reviews.com.