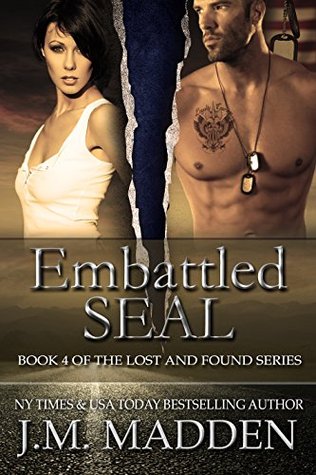 RATING: 5 out of 5 Stars
EMBATTLED SEAL (Lost and Found #4) by J.M. Madden is a character driven romance that had me reading straight through the night, crying sad tears and then happy tears.
Harper Preston was a Navy SEAL sniper and nearly fatally wounded on Lost and Found's last operation. As his boss and friend wait for him to wake from surgery, a woman shows up and takes control. She is Harper's estranged wife that no one knew existed.
Catherine "Cat" Preston has come to Harper's hospital bedside once again. She has always understood what she signed up for by being a SEAL's wife. His job would always come first, he couldn't talk about his time away and she would basically be a single parent, but 18 months ago he left his family and cut all communication thinking he was doing what was best for them. Cat disagrees and she has plans to abduct her husband and settle the future of their marriage and family once and for all.
I loved that so much of this story was told from Cat's point of view. She loves and understands her husband. She was strong and took care of their home and children while he was away. She took care of him when he was home, so when he just left, she was devastated. She knew he was having problems adjusting to civilian life, but he didn't communicated how bad it was and he wouldn't go for help until LNF hired him and made it mandatory. LNF saved his life and now he wants to save his marriage.
This story delves into the mind and marriage of a military man that his country has turned into a killing machine that has seen and lived through the horrors of war. Injuries, PTSD in all its forms and the fear of accidentally hurting those he loves are discussed. The stigmatism, even if it is only in his own mind, of seeking psychiatric help is also discussed. I feel this book handled the communication issues between Cat and Harper realistically and with a lot of mutual love.
Another great addition to the LNF series!