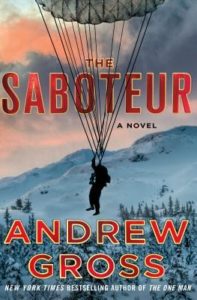 RATING: 5 out of 5 Stars
THE SABOTEUR by Andrew Gross is an intense historical fiction based on the true life stories of the Norwegian Freedom Fighters assigned the seemingly impossible task of destroying the Nazis' supply of heavy water before it could be used to produce an atomic bomb.
Kurt Nordstrum was an engineering student in Oslo in 1940 when the Nazis invaded. His whole life changes as he fights with his friends in the Norwegian resistance. The friendships, bravery and strength of these men and women is highlighted in this story.
Dieter Lund is a Captain in the Quisling, which is an arm of the Gestapo made up of Norwegian collaborators. Kurt and Dieter attended school together in their small hometown. With the murder of another Quisling onboard a ferry, the long resentment and envy that Dieter feels towards Kurt manifests itself and the chase is on. Good versus evil, protagonist versus antagonist.
In 1943, Kurt and his highly trained fellow Norwegian teammates are parachuted back into Norway from England for the specific purpose of destroying a heavily fortified hydro plant's capability of producing heavy water and destroying any already produced. They must also stop any from leaving Norway and making it to Germany.
Between the seemingly impossible missions that this team takes on and the continual chase of the Quisling it was hard to put this book down.  The tragedies and triumphs of ordinary people during a horrific world war are highlighted in this book. As the author notes in the end, this story is based on real people, which makes it all the more amazing.
*(I want to make one personal comment on this book and other reviews I have read. I agree with everyone that this author's previous book "The One Man" was an exceptional historical thriller. I feel that any comparisons to this book though short changes this book. This book is based on true people and is a historical fiction novel. Yes, it has thrills and suspense throughout, but there is a difference between the two types of books. I did not compare the two when I rated my review.)
Thank you very much to St. Martin's Press, Minotaur Books and Net Galley for allowing me to read this eARC.