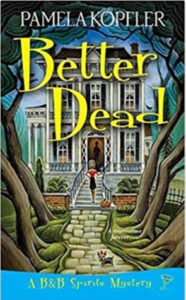 RATING: 3 out of 5 Stars
BETTER DEAD (A B&B Spirits Mystery #1) by Pamela Kopfler is the first book in a new cozy mystery series set in a Louisiana B&B. The spirit in this book adds a touch of the paranormal and I can only assume that since this series is called a B&B Spirits Mystery there will be others in future books.
Holly Davis owns Holly Grove plantation turned B&B. It has been in her family for several generations and she especially needs to make it a success and profitable now that her cheating husband is dead. Killed in a plane wreck before Holly could divorce him, Burl nearly bankrupt the B&B and was involved with drug smuggling on the property.
As Holly drinks to celebrate her untimely freedom, Burl shows up as a spirit with unfinished business. Burl needs Holly's help to move on. Holly needs Burl's help to make Holly Grove a truly haunted plantation that will draw in guests to pay the bills.
Jake McCann, Holly's former high school sweetheart, returns to town to help with the town's paper while the owner is on vacation. He works out an agreement with Holly to stay at the B&B, but is that the only reason he has returned?
This was a fast read and had some laugh out loud scenes especially when you read about Gold Member and some of Holly's disasters. The interaction between Holly, her ex's spirit and Jake was also well written.
I was disappointed that Holly made so many bad decisions that placed her in jeopardy. One or two is fine, but I prefer a smarter heroine. I am not sure if it was done for screwball comedy sake, but it was just too many times. For me, Holly's long-time housekeeper and cook was more of a caricature than I was comfortable with. I also would have preferred Jake to become more romantically involved further into future books. It felt rushed at the end of this book.
Overall, this is an entertaining cozy, but not sure if I will continue with the series.