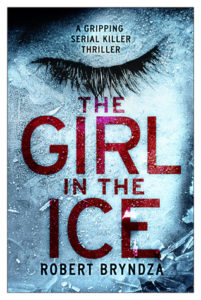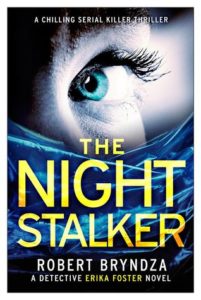 I am currently reading Dark Water, which is book #3 in this series, so I just wanted a short preview of the first two amazing books in this series to appear on my site. Both books received a 5 Star rating from me and many other reviewers. Robert Bryndza has written a series with a multi-dimensional strong female lead character, interesting secondary characters and fast paced, unique murder plots.
Book #1 – The Girl In the Ice
This book was extremely hard to put down. It was fast paced, intriguing, gripping and just a great all around read. This is the start to a new series that I strongly recommend.
DCI Ericka Foster is back on the job after terrible personal tragedy to investigate the death of the socialite daughter of a rich, political family. Politics and class hamper their investigation at every turn because the dead girl is somehow tied to the murder of three prostitutes murdered in a similar fashion. The killer knows Erika and her team are close to uncovering the truth which means Erika needs to be eliminated from the case, permanently.
DCI Erika Foster is a strong female protagonist. The cast of supporting characters in her investigative unit are all interesting in their own right and I can't wait to learn more about them in future books. The plot was fast paced and besides the investigation into the murders you get a glimpse of how the rich and powerful can interfere with justice. Excellent start to a new series!
Book #2 – The Night Stalker
I am in love with DCI Erika Foster and all the wonderful, flawed characters and suspenseful, exciting plots. This book had me reading past my bedtime and checking all my doors and windows.
The very first chapter raised my blood pressure. Don't we all worry about the shadows in our room or under our beds? The Night Stalker has a list and is ready to eliminate each in turn. As Erika and her team try to figure out a motive and find their suspect, The Night Stalker contacts Erika personally. Is The Night Stalker a stone-cold psychopath or a victim out only for revenge? Erika has to decide, but her own feelings are not as clear cut on this subject as she would like. The chase to stop a killer and save her friend, Isaac Strong, from prosecution for these murders is on and you will not want to put this book down.
I cannot recommend this author and series enough! Mr. Bryndza writes a British police procedural with characters that I feel are so lifelike that I can see them really working away in England to solve murders. The plot pace is fast and his writing crisp. I am going to be anxiously awaiting the next book and what decision Erika makes in regards to her future.
This is a must read series for me!